Song: If Tomorrow Never Comes - Garth Brooks
I went through more than thirty years of domestic abuse.
God has let me live to write my story.
I now use that story in working with abused women.
I have also written a sequel that is being edited.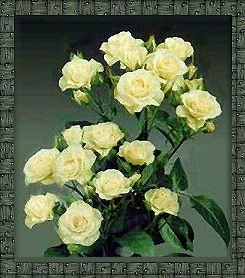 ~~ I Got Flowers today ~~
I got flowers today
It wasn't my birthday or any other special day.
Last night we had a fight and he hit me,
But I know he is sorry
Cause I got flowers today
I got flowers today
It wasn't our anniversary or any other special day.
Last night he threw me against the wall and started to choke me,
But I know he's sorry,
Cause I got flowers today
I got flowers today
It wasn't Mothers day or any other special day
I was so swollen and bruised I was ashamed to answer the door
But I know he's sorry,
Cause I got flowers today
If I leave him, where will I go?
What about money? what about my kids?
It's getting worse every time but I'm afraid to leave But I know he's sorry
Cause I got flowers today
I got flowers today
My family and friends filed by to see me
Asking why I never left him,
If I only had the strength and courage to, but I didn't
So I got Flowers today
Copyright© Sept 91 Allen "Two Trees" Dowdell
To let you know a little of the background for "I Got Flowers Today"

A friend of mine was in an abusive marriage.
In Oct of '91, I wrote the poem 'I got flowers' for/to her.
Her husband was about six feet tall, she was 5' 2" and blind.
She not only didn't know when the next incident would occur,
she couldn't even see the blows coming when it did.
I did not write the poem to win her, but to get
her to find the strength to get out of that situation.
She is now well alive and my wife.
Allen "Two Trees" Dowell ( Scotland )
- Thank you for letting me know -
Evelyn
---
---
---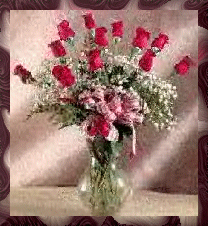 In Memory of Rachel Susan Miller
Born 27th.May 1970
died through domestic Violence 26th.April 2000
To Every Mother on Mothers Day
---
---
---

Domestic abuse is a terrible thing.
Here in Arkansas almost 300 women
have been killed since 1989.
There are a T-Shirts made and displayed to help break
the silence of domestic abuse, for each lady.
In 1999 (20) were killed.
These are the numbers that have been proven
to be killed, most of them beat to death.
---
---
---
Does Heaven have a phone number?
Mommy went to Heaven, but I need her here today,
My tummy hurts and I fell down, I need her right away,
Operator can you tell me how to find her in this book?
Is heaven in the yellow part, I don't know where to look.
I think my daddy needs her too, at night I hear him cry.
I hear him call her name sometimes, but I really don't know why.
Maybe if I call her, she will hurry home to me.
Is Heaven very far away, is it across the sea?
She's been gone a long, long time she needs to come home now!
I really need to reach her, but I simply don't know how.
Help me find the number please, is it listed under "Heaven"?
I can't read these big big words, I am only seven.
I'm sorry operator, I didn't mean to make you cry,
Is your tummy hurting too, or is there something in your eye?
If I call my church maybe they will know.
Mommy said when we need help that's where we should go.
I found the number to my church tacked up on the wall.
Thank you operator, I'll give them a call.
~~ Author: Donna Groleau ~~

---
---
---
This poem was given to me by a very kind lady
~ And Quietly We Weep ~
A woman scourged with so much pain
And yet she always does remain
She has no place she wants to go
But always does her sorrow show
What is this fear that keeps her close
To people who will hurt the most
~ And quietly she weeps ~
A woman filled with such remorse
Protects the children at any cost
Kissing them and holds them close
Lets them know she loves them most
Accepts this pain her life remains
With brutal hand she feels the pain
~ And quietly she weeps ~
She has this fear to leave behind
The fate that somehow she's inclined
To think that she deserves this hate
I try to think and contemplate
What's wrong with this poor woman child
That keeps her master so unkind
~ And quietly she weeps ~
She hopes that one day this will leave
But I'm telling you there's no reprieve
From hate and anger she is bound
To lose all hope that's never found
And cringes in a corner deep
While promises are lost for keeps
~ And quietly she weeps ~
Who is this monster who lives inside
That brutalizes his own bride
Who is a meek and gentle soul
And never gets her story told
But sits in silence with her heart
Afraid to move and fears to part
~ And quietly she weeps ~
This sad and gentle lady fair
Has lost the life that's never there
Her heart is weak her mind is numb
Her life is over and it's done
Do you fear that this might be
The testament for you and me
~ And quietly WE weep ~

~author - Francine ~
© used with permission ©
---
---
---


Below is a link about Dangers on the Internet
I am Evelyn's Webmaster and I invite you to visit: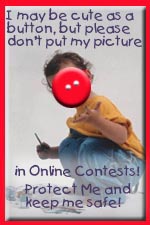 An important site about removing childrens
pictures from your Web Pages
Please take a moment to read this page
to become informed about abuse of another kind.
---
---
---

This rose sheds its tears for all those lost to
Domestic Violence,those still victim,and
to those yet to become victim.
When Domestic Violence is stopped...
this rose will sparkle again with beauty....
and its tears will end.



Domestic Violence Ribbon


I'd like you to take a moment to read the link below.
With our help....we can Find this mother and daughter.
What Happened to Grace and Little Gracie ?
Reward for information leading to Michael Reapp's whereabouts.
A notice on Grace's page right under Michael's photo will explain this.
They are desperate to locate Michael
for further questioning by the Vermont State Police.
---
---
---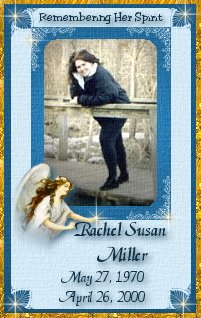 Thank you Stacy Lynn, your sister Rachel
is in the hearts and minds of so many.
Memorial Page
Please come light a candle for Rachel.
April 26, 2001 marks *one year* since the murder of Rachel...
CandlePrayer Page



First Anniversary in Heaven - A dedication, to our beloved Rachel -
*by Francine*




MESSAGE TO ALL MY FRIENDS AND VISITORS

I have a NEW site and and message board
NEW MESSAGE BOARD





If you would like to link to this site, please take my banner.
Please save to your own server ... Thank you

Here is another banner you can use to link to my OTHER SITE


This banner should be linked to:
http://www.evelynfortstewart.com/


My book is in print in the United Kingdom, today (April 2, 2001) is the first say it has been displayed. Any one of you that has a website and is not yet linked to me (this is a complete new website) please let me or my webmaster know. Any one that would like to display my book on their website just get in touch with me. If any of your friends would liked to be linked to me, please let them know, I will be most grateful. It is a story that needs to be told. Not because I wrote it, but because it is a true story and is helping people. That's the key to my heart. Being able to help others.
Ordering and reviews on mybook


Authors on Line -The Pioneer of Print On Demand Titles


A very special Guardian Angel was made for me
Dear Evelyn,
I made this Guardian Angel for you to use as you please..
Hope you like it as much as I enjoyed making it..
Hugs, Patrice
Thank you: Ange1eyes3





[HOME Page] [About Me] [Letters from others]
[Links & Information] [Awards I've Received]
[Gifts I've Received]
[Rachel Miller's Story] [WomenofSpirit]
[Web Rings I belong to]




Where information about my book can be found
Totally Discombobulated

Please sign my Guest Book so I know you were here


Read my SIXTH Guest Book Here
Thank your for your entries

Read my FIFTH Guest Book Here
Thank you for your entries

Read my FOURTH Guest Book Here
Thank you for your entries

Read my THIRD Guest Book Here
Thank you for your entries

Read my SECOND Guest Book Here
Thank you for your entries

Read my FIRST Guest Book Here
Thank you for your entries
~ Updated: April 11, 2002 ~
This site was born on January 30, 2000
Page designed & maintained by TOBI
All HTML was hand coded.
No HTML editors were used.
All Rights Reserved.


Mix and Match Background by
Web Elegance

Some graphics by
Creations by Dawn